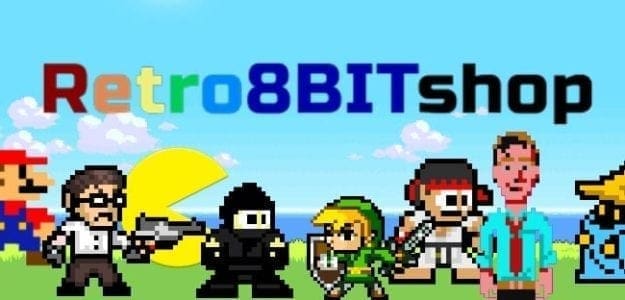 Retro8BITShop
Scharwater, 27

Barendrecht,

Netherlands

No ratings found yet!
Store Closed
Marking the revival of the best-selling MX vs. ATV racing series, MX vs. ATV Supercross is centered around the high-flying, mud-churning Supercross sport. Rip, jump and scrub your way on a variety of tracks and try to cross the finish line first against more than 40 official riders to attain all that motocross glory. Choose between bikes or ATVs, multiple game modes including Career, Single races, and online multiplayer events with up to 12 players. Perform amazing tricks to impress your fans or just "whip" over jumps to finish the race first. Customize your rider with items from numerous licensed motocross companies to kick up dirt and dust on your way to victory.

Bubble Dreamer, Rayman, his best friend Globox, and some Teensy friends are chilling out at the Bubble Dreamer's resting grounds, the Snoring Tree. However, their snoring disturbs an old granny from the Land of the Livid Dead, who retaliates by sending an evil army of horrendous creatures and the Darktoons across the world, capturing the Electoons that inhabit the world, imprisoning Betilla the Nymph and her sisters, and plunging the Glade into chaos. As a result, the ensuing disaster causes the Bubble Dreamer to go crazy and have nightmares. Although they are captured, Rayman and his friends are able to escape the Darktoons. They are then tasked by the Magician to gather enough Electoons to cure the Bubble Dreamer and restore the Glade of Dreams. Their efforts to locate the Electoons allow them to gain access to the various lands of the Glade, rescuing the Nymphs along the way.

Celebrate 20 years of Sonic in an all new adventure that delivers a definitive experience to Sonic fans new and old!

The Japanese version has different subtitles: White Time and Space (白の時空 Shiro no Jikū) for the home consoles, and Blue Adventures (青の冒険 Ao no Bōken) for the 3DS version. All versions of this game can be played in 3D, but a 3DTV as well as a pair of 3D glasses are required for the PlayStation 3 and Xbox 360 versions, being the first game of the franchise to be played in 3D. It uses stereoscopic 3D with the involvement of a pair of screens in one.

Escape Dead Island is a Survival-Mystery adventure that follows Cliff Calo, who sets sail to document the unexplained events on Banoi. Arriving on the island of Narapela, he finds that not everything is as it seems. This title lets players delve into the Dead Island universe and unravel the origins of the zombie outbreak. Escape is just the beginning.

In a lawless open-world paradise, use whatever means necessary to achieve your objective. Use land, sea and air to your advantage and use a wide range of weaponry to cause as much chaos as possible.

Kingdom Hearts HD 1.5 ReMIX includes…

KINGDOM HEARTS: FINAL MIX
In the original and Final Mix versions of Kingdom Hearts, the command menu had four commands: Attack, Magic, Items, and a fourth context-sensitive slot that varied depending on what the player had targeted, where they were, etc. The command menu has been updated to include "Attack", "Magic", "Items", and "Summons" in the fourth slot, which was originally located as a sub-category beneath the "Magic" menu. The original fourth command has been replaced by the introduction of Reaction Commands from Kingdom Hearts II and are triggered by pressing the Triangle Button. The camera works more similarly to that of Kingdom Hearts II, utilizing the right thumb stick to move the camera and allowing the player to click the R3 button to reset the camera behind Sora, as opposed to the original game which made use of the shoulder triggers L2 and R2 to position the camera. Overall, the gameplay of Kingdom Hearts Final Mix was modified so it would play more similarly to Kingdom Hearts II and Re:Chain of Memories, to create a more consistent play style throughout the series.

KINGDOM HEARTS: RE:CHAIN OF MEMORIES
This version of Chain of Memories was released in Europe and Australia for the first time as part of the collection, as it was previously released in North America in December 2008.

KINGDOM HEARTS: 358/2 DAYS
This game, originally released for the Nintendo DS, does not appear in playable form in this collection, and is instead adapted into 2 hours and 50 minutes worth of cinematic cutscenes, remastered in high definition.

LEGO Star Wars: The Force Awakens takes players deeper into the new film than any other game with all of the heroic characters from the movie, including Rey, Finn, Poe Dameron, Han Solo, Chewbacca, C-3PO, and BB-8, as well as Kylo Ren, General Hux and Captain Phasma, while also exploring iconic Star Wars locales, such as Jakku and Starkiller Base.

This game introduces new gameplay features, including the enhanced "Multi-Builds" system, where players can choose from multiple building options to advance the game. Gamers will be able to engage in intense new Blaster Battles for the first time, utilizing surrounding environments to drive back the First Order. Fans can also experience the thrill of high-speed flight gameplay through arena-based battles and dogfights in space, while utilizing a multitude of vehicles along the way, including the legendary Millennium Falcon.

Valkyrie Profile 2: Silmeria is the second installment of the Valkyrie Profile series.
Taking place hundreds of years before the original game, the story revolves around two characters living the same body, named Silmeria and Alicia. Together, the two characters work to stop a catastrophe that could cause war between the people and the gods. The game received generally positive reviews, citing its similarity to the original Valkyrie Profile game and its beautiful graphics, but had a convoluted interface and a high degree of difficulty. The game went on to be re-released as a Square Enix "Ultimate Release".

When the sky opens up and rains down chaos, the world needs heroes. Become the savior of Thedas in Dragon Age: Inquisition. You are the Inquisitor, tasked with saving the world from itself. But the road ahead is paved with difficult decisions. Thedas is a land of strife. Factions constantly war with each other even as a larger demonic invasion has begun. And you? You and your band of champions are the only ones who can hold it together. It's your job to lead them… or fall.

Enthralling, Choice-driven Narrative – You're not just deciding who to send into which battle in Inquisition, you're making important decisions that shape the future of Thedas. Each choice carries weight, and your actions can lead to a variety of outcomes. Inquisition is a highly personalized journey, where one wrong move could set in motion a series of events that alter the physical aspects of the world itself, making your Thedas – and your heroes – feel truly unique.

A Massive World to Discover – The world of Thedas has never been bigger or more detailed; it's wide open, and ripe for exploration. Discover enemy keeps ripe for the taking. Unearth hidden caves filled with lurking creatures. Thedas is vast and dangerous, but uncovering its secrets can spell the difference between victory and defeat.

Intense, Strategic Combat – There's no wrong way to play Dragon Age: Inquisition… except for the way that gets you killed. Fortunately, the optional strategic view gives you a god's-eye vantage on battle. Time stops while you plan in this view, but if that's not your style, you can just barrel ahead, crossbows blazing.

Become Seacrest County's top cop or most wanted racer!

You are Sam Fisher, the NSA's most elite black-ops agent. To achieve your mission you will kill from close range, attack with your combat knife, shoot with the prototype Land Warrior rifle, and use radical suppression techniques such as the inverted neck break. Also take on cooperative multiplayer infiltration missions, where teamwork is the ultimate weapon.

Infiltrate terrorists' positions, acquire critical intelligence by any means necessary, execute with extreme prejudice, and exit without a trace!

You are Sam Fisher, a highly trained secret operative of the NSA's secret arm: Third Echelon. The world balance is in your hands, as cyber terrorism and international tensions are about to explode into WWIII.

John Mullins, working for a U.S.-based mercenary ("soldier of fortune") organization known only as "The Shop", and his partner, Aaron "Hawk" Parsons, are assigned to prevent the nukes from falling into the wrong hands, and stop the terrorists in their plans.

The Battlefield franchise entered a new era equipped with more firepower, modernized weaponry and vehicles, and a deeper infantry experience from the jungles to the beaches of Vietnam. In Battlefield Vietnam, players selected from a variety of characters within the different soldier classes.

The game introduced new dramatic battle scenarios including leading a squadron of helicopters in an all-out attack on an enemy compound, executing an ambush of enemy soldiers from dense foliage, captaining a PT boat through a dangerous jungle river passage, and more.

Building upon and vastly refining the ideas from Codename Eagle, Battlefield 1942 let players engage in infantry combat and get behind the wheel of a variety of vehicles from submarines to battleships and bombers. The game introduced the signature Battlefield rock-paper-scissors gameplay, as well as the exciting "Battlefield Moments" people refer to when talking about their unique and unscripted experiences within the multiplayer game.

The player has two primary weapon slots, a handgun slot and can carry up to eight grenades (all of the later Call of Duty games feature only two weapon slots; a sidearm will fill one of these slots). Weapons may be exchanged with those found on the battlefield dropped by dead soldiers.

Atari Flashback is (theoretically) a retro gamer's wet dream. An Atari 7800 styled console (only smaller, without a cartridge slot and with a cheaper build), that runs on a normal AC adapter, includes 20 built-in Atari 2600 and 7800 games, and costs less than a contemporary pc game (and much less than a XBOX 360 one). You even get two 7800 styled joysticks thrown in the bargain.

For the first time, Indiana Jones' Greatest Adventures are revealed, as documented by his arch-rival Rene Belloq & his son. Read the diaries of the embittered arcahelogists as they follow Dr. Jones across the world on his search for some of history's most powerful lost artifacts – the Ark of the Covenant, the Sankara Sontes, the Holy Grail & the fabled Crystal Skull. Far-flung locations, loyal sidekicks & terrifying enemies are all featured in this detailed account of Indiana's journeys. Read the diaries, follow the journey, live the adventure…

Mass Market Paperback – April 29, 2008

SUP Game Box Plus – Portable Handheld Retro Gaming Console

RETROGAMER BOOK: Our latest retro book is dedicated to Nintendo's 64-bit console and features all its best games, from Super Mario 64 to The Legend Of Zelda Ocarina Of Time and GoldenEye. If you're a fan of Nintendo's powerful console you'll find this tome unmissable.

RETROGAMER BOOK: In the Retro Gamer Book of Arcade Classics, we've collated our greatest arcade content so you can relive one of gaming's most significant periods. Read up on the origins of iconic games, how arcades ruled the world, and much more inside!

RETROGAMER BOOK: There really is nothing quite like playing an old game on the hardware it was intended for, which is where the book you see before you will come in handy. Charting the history of videogames hardware from 1977 to 1999, this handbook examines many of the greatest games machines ever made and details the best games you should look out for once you've bought one.

Free download this Zak mcKracken Hint Book PDF format

In the dead of space, something is alive.

A deep space adventure by Sean Clark in collaboration with filmmaker Steven Spielberg.

You've saved the Earth from Total Destruction. Now, Can you save yourself?

An asteroid the size of a small moon is on a crash course toward Earth, and only NASA veteran Boston Low has the expertise to stop it. Along for the ride are award-winning journalist Maggie Robbins and internationally renowned geologist Ludger Brink.

Once the wayward asteroid is nuked into a safe orbit, the trio conducts a routine examination of the rocky surface.

What they uncover is anything but routine.

Low, Brink and Robbins unwittingly trigger a mechanism that transforms the asteroid into a crystal-like spacecraft. The team is hurled across the galaxy to a planet so desolate, Brink is moved to name it Cocytus, after the 9th circle of Hell in Dante's Inferno. The bleak landscape was obviously once home to a highly enveloped civilization, with remnants of sophisticated architecture, advanced technology and an intricate network of underground tunnels.

But no Cocytans.

Who were the original inhabitants of this once rich empire-turned-wasteland? What are those apparitions that mysteriously appear from time to time? Why have Low, Robbins and Brink been brought to this place? And how can Low keep his team from unraveling in the face of such uncertainly? To return to Earth, the must dig for answer, both on the planet's surface and deep within themselves.

From the combined talents of LucasArts and legendary filmmaker Steven Spielberg comes an epic adventure that plunges headlong into the very core of the unknown. And takes you with it.