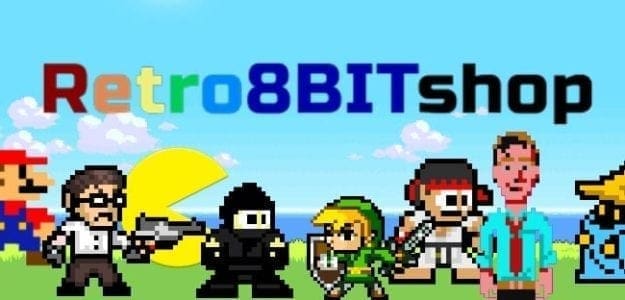 Retro8BITShop
Scharwater, 27

Barendrecht,

Netherlands

No ratings found yet!
Store is closed
Kikstart is a motorcycle trials racing game it allowed 2-player simultaneous (via a split-screen facility) or 1-player, vs-computer play. The basic premise of the game is to control a bike using acceleration, braking, "hopping" and "wheelies" to navigate across a course of various obstacles, from ramps and gates to telephone boxes and tires.

Something sinister lurks in the seaside town of Riva. An evil force has subverted the city's leaders, and evil things lurk in the town's sewers. Explore the huge city, dungeons and even underwater regions in stunningly detailed 3D. Adjustable difficulty levels make the game as simple or as detailed as you like.

A fantasy-themed vertical scrolling shooter released in 1986 for MSX, also available for Wii's Virtual Console in Japan.

This game was released on the PC with both a CGA (4 color) and EGA (16 color) disk.

Knightmare, known in Japan as Majou Densetsu (魔城伝説 , Demon Castle Legend?), is a 1986 MSX vertical scrolling shooter computer game. The player is a knight, Popolon, who has to fight his way through several levels to defeat Hudnos and rescue Aphrodite.

Knightmare was an innovative upward-scrolling shoot 'em up game on the MSX system released as game cartridge. The top-view graphics were considered very sophisticated for its time, similar to other MSX games such as Nemesis and Penguin Adventure.

Konami also released a slightly altered version that could be bought from LINKS network. (Japanese "internet replacement" of the 80's) In this version you could submit high scores to online server.

It was brought without a license to the SG-1000 in Taiwan.

16K Cartridge for the Commodore VIC20, untested, no manual

NOS Commodore VC 20/VC64 data kabel (nieuw in verpakking).
New old stock – commodore vc 20/vc64 data kabel (nieuw in verpakking).

Fits Commodore 1541 1571 and other floppy disk drives

800Gr cardbord used for extra durability

Magic Disk 1MB Legendary Games Cartridge for the Commodore 64/C128

Fast loading
Build-in Menu
Reset Button

Being an action title, the game starts off where Indy is about to have an excuse to use his trusty whip: in Monte Carlo, after he recruited headstrong former student Sophie to his aid and determined the location of ancient discs needed to open the door to the lost city of Atlantis. Most action takes place in isometric view, although there are some variations along the way to keep up interest. There are even some adventure-game elements, such as Indy's inventory which you can fill with various objects to use (i.e. money to buy things). They are mostly easy though, and are there only to relieve the tension from knuckle-blistering action.

Become Seacrest County's top cop or most wanted racer!

You are Sam Fisher, the NSA's most elite black-ops agent. To achieve your mission you will kill from close range, attack with your combat knife, shoot with the prototype Land Warrior rifle, and use radical suppression techniques such as the inverted neck break. Also take on cooperative multiplayer infiltration missions, where teamwork is the ultimate weapon.

Infiltrate terrorists' positions, acquire critical intelligence by any means necessary, execute with extreme prejudice, and exit without a trace!

You are Sam Fisher, a highly trained secret operative of the NSA's secret arm: Third Echelon. The world balance is in your hands, as cyber terrorism and international tensions are about to explode into WWIII.

The Battlefield franchise entered a new era equipped with more firepower, modernized weaponry and vehicles, and a deeper infantry experience from the jungles to the beaches of Vietnam. In Battlefield Vietnam, players selected from a variety of characters within the different soldier classes.

The game introduced new dramatic battle scenarios including leading a squadron of helicopters in an all-out attack on an enemy compound, executing an ambush of enemy soldiers from dense foliage, captaining a PT boat through a dangerous jungle river passage, and more.

Building upon and vastly refining the ideas from Codename Eagle, Battlefield 1942 let players engage in infantry combat and get behind the wheel of a variety of vehicles from submarines to battleships and bombers. The game introduced the signature Battlefield rock-paper-scissors gameplay, as well as the exciting "Battlefield Moments" people refer to when talking about their unique and unscripted experiences within the multiplayer game.

The player has two primary weapon slots, a handgun slot and can carry up to eight grenades (all of the later Call of Duty games feature only two weapon slots; a sidearm will fill one of these slots). Weapons may be exchanged with those found on the battlefield dropped by dead soldiers.

Atari Flashback is (theoretically) a retro gamer's wet dream. An Atari 7800 styled console (only smaller, without a cartridge slot and with a cheaper build), that runs on a normal AC adapter, includes 20 built-in Atari 2600 and 7800 games, and costs less than a contemporary pc game (and much less than a XBOX 360 one). You even get two 7800 styled joysticks thrown in the bargain.

For the first time, Indiana Jones' Greatest Adventures are revealed, as documented by his arch-rival Rene Belloq & his son. Read the diaries of the embittered arcahelogists as they follow Dr. Jones across the world on his search for some of history's most powerful lost artifacts – the Ark of the Covenant, the Sankara Sontes, the Holy Grail & the fabled Crystal Skull. Far-flung locations, loyal sidekicks & terrifying enemies are all featured in this detailed account of Indiana's journeys. Read the diaries, follow the journey, live the adventure…

Mass Market Paperback – April 29, 2008

SUP Game Box Plus – Portable Handheld Retro Gaming Console

RETROGAMER BOOK: Our latest retro book is dedicated to Nintendo's 64-bit console and features all its best games, from Super Mario 64 to The Legend Of Zelda Ocarina Of Time and GoldenEye. If you're a fan of Nintendo's powerful console you'll find this tome unmissable.

RETROGAMER BOOK: In the Retro Gamer Book of Arcade Classics, we've collated our greatest arcade content so you can relive one of gaming's most significant periods. Read up on the origins of iconic games, how arcades ruled the world, and much more inside!

RETROGAMER BOOK: There really is nothing quite like playing an old game on the hardware it was intended for, which is where the book you see before you will come in handy. Charting the history of videogames hardware from 1977 to 1999, this handbook examines many of the greatest games machines ever made and details the best games you should look out for once you've bought one.

Free download this Zak mcKracken Hint Book PDF format

In the dead of space, something is alive.

A deep space adventure by Sean Clark in collaboration with filmmaker Steven Spielberg.

You've saved the Earth from Total Destruction. Now, Can you save yourself?

An asteroid the size of a small moon is on a crash course toward Earth, and only NASA veteran Boston Low has the expertise to stop it. Along for the ride are award-winning journalist Maggie Robbins and internationally renowned geologist Ludger Brink.

Once the wayward asteroid is nuked into a safe orbit, the trio conducts a routine examination of the rocky surface.

What they uncover is anything but routine.

Low, Brink and Robbins unwittingly trigger a mechanism that transforms the asteroid into a crystal-like spacecraft. The team is hurled across the galaxy to a planet so desolate, Brink is moved to name it Cocytus, after the 9th circle of Hell in Dante's Inferno. The bleak landscape was obviously once home to a highly enveloped civilization, with remnants of sophisticated architecture, advanced technology and an intricate network of underground tunnels.

But no Cocytans.

Who were the original inhabitants of this once rich empire-turned-wasteland? What are those apparitions that mysteriously appear from time to time? Why have Low, Robbins and Brink been brought to this place? And how can Low keep his team from unraveling in the face of such uncertainly? To return to Earth, the must dig for answer, both on the planet's surface and deep within themselves.

From the combined talents of LucasArts and legendary filmmaker Steven Spielberg comes an epic adventure that plunges headlong into the very core of the unknown. And takes you with it.

Mass Market Paperback: 320 pages
Publisher: Aspect (February 1, 1997)
Language: English
ISBN-10: 0446603791
ISBN-13: 978-0446603799
Product Dimensions: 4.1 x 0.9 x 6.8 inches
Shipping Weight: 5.6 ounces
Average Customer Review: 4.5 out of 5 stars   30 customer reviews
Amazon Best Sellers Rank: #2,100,012 in Books (See Top 100 in Books)

When an asteroid out of nowhere threatens to hit Earth, a space shuttle is sent to nudge it into a safe orbit. Venturing to the surface, three crew members become trapped as the asteroid suddenly leaves orbit, transporting them to a strange planet light years away. To find their way home, the intrepid explorers must embark on a dangerous archaeological adventure in this tale of galactic intrigue and suspense.

Commodore 64 Tape with the famous Shoot-em-up-Construction-Kit

Wannabe pirate Guybrush Threepwood, and the now zombie pirate LeChuck, return in what has long been considered one of the greatest LucasArts adventure games of all time.

Having seemingly defeated the evil ghost pirate LeChuck in his first adventure, Guybrush Threepwood sets his sights on the legendary treasure of Big Whoop. But wait, LeChuck is now back in zombie form and he's out for revenge. Guybrush will have to use his wits, his humor and his insatiable desire for adventure to defeat his nemesis once and for all and truly prove himself the greatest pirate in the Caribbean. Voodoo dolls, spitting contests and amusement parks are just some of the challenges Guybrush must overcome as he meets old friends, fights new enemies and uses every ounce of his mojo to overcome the wrath of LeChuck's revenge.

CORE DESIGN
PC Twinpack Tomb Raider IV & V
Eidos Interactive, 2000

The Way of the Exploding Fist is a 1985 fighting game by Gregg Barnett, Bruce Bayley and David Johnston of Beam Software. Originally developed on the Commodore 64 and published in June 1985 by Melbourne House, ports were made for Amstrad CPC, ZX Spectrum, BBC Micro, Acorn Electron and Commodore 16.

Command & Conquer: Generals puts your trigger finger on the pulse of modern warfare. Choose your powerful General to control massive armies of bleeding-edge military weaponry across a globe teetering on the brink of Armageddon.

Command one of three unique sides, each with customisable high-tech arsenals ready to deliver unprecedented firepower on land or in the skies. Annihilate the opposition in the 27-mission single-player campaign or dish out the damage in global multiplayer mayhem. Prepare your forces, Commander…it's time to engage in the next generation of real-time strategy – Command & Conquer Generals.

The Secret of Monkey Island (alternatively known as Monkey Island I) is a 1990 point-and-click graphic adventure game developed and published by Lucasfilm Games. It takes place in a fantastic version of the Caribbean during the age of piracy. The player assumes the role of Guybrush Threepwood, a young man who dreams of becoming a pirate and explores fictional islands while solving puzzles.

Dutch Racing Game for PC and tested

In the year 10191, the Houses Atreides and Harkonnen are fighting a bloody battle for control of the sand planet Arrakis (Dune). It's only resource: Spice, giving those who possess it a very long life and greater powers. Two Atreides will survive the all-out massacre organised by Baron Harkonnen with the help of the Emperor: Jessica, the Duke's concubine and Paul, his son and heir to the throne. Dreamcatcher Games is putting you into the world of Frank Herbert's Dune.

Create over a million unique Sims and control their lives. Customize everything from their appearances, to their personalities and even the home of their dreams. Then, send your Sims out to explore new locations around town and to meet other Sims in the neighborhood. With all-new quick challenges and rewarding game play, The Sims 3 gives you the freedom to choose whether (or not!) to fulfill your Sims' destinies and make their wishes come true.

Outdoor Living Stuff is the third stuff pack for The Sims 3.
For the first time ever, your Sims can get the best in outdoor luxury for their homes in The Sims 3 Outdoor Living.
Whether they're decorating the perfect patio, setting the mood with a cool new hot tub, or firing up a state-of-the-art grill for the ultimate BBQ, your Sims' outdoor decor is getting a boost.
Give your Sims everything they need for a stylish and comfortable outdoor living space with The Sims 3 Outdoor Living.

Stretch your imagination further to build bigger parks and higher coasters! Break ground and start from scratch, open the gates to a remarkable Six Flags park, or just create the most gut-wrenching roller coaster imaginable – now you can play your way! Choose and complete different scenarios accordingly to the experience and content you like. Satisfy the visitors by building various attractions and facilities.Wild new rides, exciting new themes, and improved easy-to-use building tools make creating the ultimate amusement park more fun than ever!

The premise of the game is to complete a series of preset scenarios by successfully building and maintaining amusement parks through business ownership as a theme park entrepreneur. The key to any park is building a large amount and diverse range of rides for the visitors. Players can choose from dozens of roller coaster types and can also build log flumes, carousels, bumper cars, haunted houses, go karts, ferris wheels, and swinging ships, among other rides. The intensity and type of rides must be balanced, as visitors' preferences vary significantly from person to person. For example, some guests prefer exciting rides and have high nausea tolerance levels, while other guests are just the opposite.