Commodore VIC20 parts kit
€69,95 – €74,95
4 in stock (can be backordered)
Full parts kit for the Commodore VIC , rev 250403 (cost reduced final revision).
Building a VIC20 from scratch using Rob Taylor's Vicky Twenty board or restoring one and don't want to spend hours trying to source all the parts? Then this kit is for you!
The standard kit does not include any custom chips but those can be purchased separately (based on availability).
Kit consists of 5 subkits;
Connector kit (including the very hard to get cartridge port connector)
Capacitor and Resistors kit
Powerrail, filters and semiconductor kit
Logic and RAM kit
Socket kit (choice of round pin or dual leaf)
The PCB is NOT included.
You can find the full Bill of Materials of this great kit here
If you want to build a NTSC machine, please leave a note when ordering. We will then add two 330R resistors for R5 and R6, and a 14.318 Mhz crystal. All other parts are suited for NTSC, except we don't stock NTSC VIC chips.
Shipment times: the packing of parts kits is partially done on order, which means we don't have complete kits ready to ship on the shelves and we need some time to prep a package per customer and we collect several orders before the packing process starts. After ordering please allow for up to 5 working days (excluding weekends) before your package will be ready to be shipped.
Price includes EU/UK tax.
Report Abuse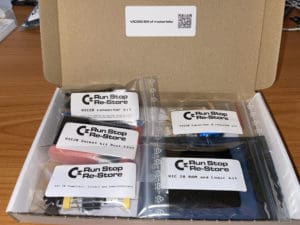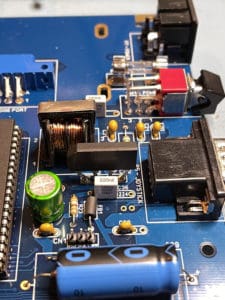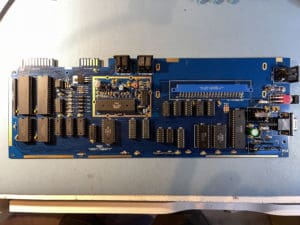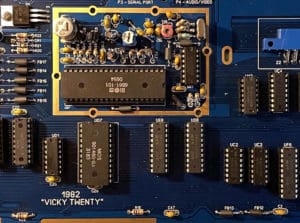 The kit was also featured in a video by the Retro Youtuber Jan Beta:
Shipping Countries: Netherlands, Belgium, France, Sweden, Germany, Italy, Austria, Spain, Luxembourg, Denmark, Portugal, San Marino, Finland, Hungary, Latvia, Bulgaria, Croatia, Slovakia, Slovenia, Malta, Estonia, Greenland, Poland, Romania, Greece, Ireland, Czech Republic, Lithuania, Faroe Islands, Cyprus, United Kingdom (UK), Andorra, Moldova, Montenegro, Switzerland, Vatican, Belarus, Serbia, Ukraine, Albania, Turkey, Bosnia and Herzegovina, Norway
---
Ready to ship in 3-5 business days from Netherlands
---
Shipping Policy
---
All shipments typically sent within 3-5 business days if products are in stock.
Using the Track and Trace shipment option is highly recommended.
Assembled Sixtyclones will only be sent with T&T and insurance.
IMPORTANT! While we do offer the option of cheaper untracked shipping to make sure the purchase of smaller sized items stays reasonable, due to the current situation with overloaded postal services due to COVID-19, there is a higher risk of serious delays or even damage and loss completely outside of our control. Our advice is to only use this shipping method for smaller items with acceptable risk to delay or loss. Inquiries about shipments without tracking will not be possible (as there is no information to give). By choosing untracked shipping buyer accepts all risks involved and no claims will be accepted, nor will any restitution of costs be granted by Run Stop Re-Store in the case of a lost shipment.
Buyer is responsible for any import VAT and customs duties on import outside of the European Union. Tracked door to door shipments only available to the following countries : Australia, Austria, Belgium, Belarus, Brazil, Canada, Cyprus, Denmark, Estonia, Finland France, Germany, Greece,, Hong Kong Hungary, Iceland, Ireland, Indonesa, Israël, Italy, Japan, Croatia, Latvia, Lebanon, Lithuania, Luxemburg, Malasia, Malta, New-Zealand, Norway, Poland, Portugal, Russia, Saudi Arabia, Serbia, Singapore, Slovenia, Slovakia, South Korea, Spain, Sweden, Switzerland, Thailand, Turkey, United Kingdom, United States.
---
Refund Policy
---
Refunds only after product is returned in good order or order cancelled before shipping.
Return shipping costs are for receiver, unless there is an error or quality issue on our part.
On arrival please take photo of unopened package if you suspect contents are damaged or tampered with. Damaged packages have to be claimed immediately after receiving.
All sales are final (i.e. NO refunds). Margin goods, New Old Stock chips, and 2nd hand products have a limited 60 day warranty. New products (parts kits for example) carry warranty as dictated by EU Consumer laws. RMAs only after approval and assigned RMA nr. Buyer is responsible for return shipping costs